We like to think of ourselves as small giants in the construction industry. By bringing a team of highly experienced construction professionals with an individual focus to your project, we deliver the capabilities of the large company, with the personal feel of a small business. We are outside-the-box thinkers who excel by developing strategies that are unique and custom to your project. We are first and foremost about you, our client, your goals and the success of the project. Here is a summary of the process of how we will work together to give your project the style and functionality that you desire.

LET'S TALK
Call us. We would love to hear about your home, construction project and listen to your ideas. We will answer all of your questions, and we will have the opportunity to get to know each other.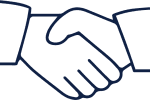 LET'S MEET
After our conversation, we typically schedule a complimentary in-person meeting as a next step. Our in-person meeting give us an opportunity to discuss your project in more details (requirements, goals, schedule and budget, architectural drawings, construction process, etc.), Based on that meeting, we can determine what best fits your needs and ensure your new space is personalized to your lifestyle.

PROPOSAL
Based on our meeting, we will discuss and evaluate potential construction methods and materials. That will help us to determine the best design direction to fit in your schedule and budget. Once we have identified the appropriate approach, we will develop a detailed proposal to review with itemized breakdown of all costs. The detailed proposal will correspond to your exact scope of work or architectural drawings. It usually becomes part of our contract due to its detailed nature and exact price.

AGGREEMENT
Based on our agreed-upon scope of construction work and your wishes for the outcome we will prepare a contract. Once we have a contract in place, we will collaborate with you to manage all needed documents for submission. As a design-build company we could prepare all architectural/structural drawings and interior design in house or we could work with your own architects and designers. We will handle all of the permit processing and we will secure all of the required permits before the construction of your project starts.
START OF THE PROJECT
Once we have the full design picture and permit in hand we are ready to start. First we will introduce you to the team that will be supervising and constructing your project and will go through the schedule that we have created one more time. We will discuss the amount and style of communication that will keep you best informed about our construction progress and we will ensure that everything from process to material&vendor selection are best-in-class, so that our final product is built well and built to last. We will begin with a construction meeting, followed by:
- Demolition (removing the old to make way for the new);
- Framing (to give the new design structure and support);
- Rough Work (includes electric, HVAC, plumbing, installation, and closing walls);
- Finish Work (installation of flooring, cabinets, countertops, tile, painting, lighting fixtures, trims etc.) Depending on the size, complexity, and purpose of a particular building project we can work with your vendors or we could provide you with our vendors;
- While bringing the project to completion we remain flexible to accommodate new developments. Our team continually reviews the project, with an eye for opportunities to facilitate expeditious completion.
PROJECT WRAP UP
Once your project is "done," our job still is not. We will walk through with you to ensure that you are completely satisfied and happy with your construction project. Our goal is to eventually be the company who gets to remodel our previous projects 20 years down the road and be there for you in all of the moments between. When we finished the project , you will have a new place to call home. And a group of dedicated professionals to call friends.